T50 Sukhoi Firefox
(Reuters) - Russia will build more than 1,000 stealth fighter jets within four decades, including at least 200 for its traditional weapons buyer India, the head of plane maker Sukhoi said on Friday.
Details of the T50
Sukhoi test-flew its long-delayed fifth-generation fighter at the end of January, and Moscow said it would be able to compete with its U.S. F-22 Raptor rival built more than a decade ago.
Sukhoi said last week it hoped the fighter, codenamed T-50, would be ready for use in 2015.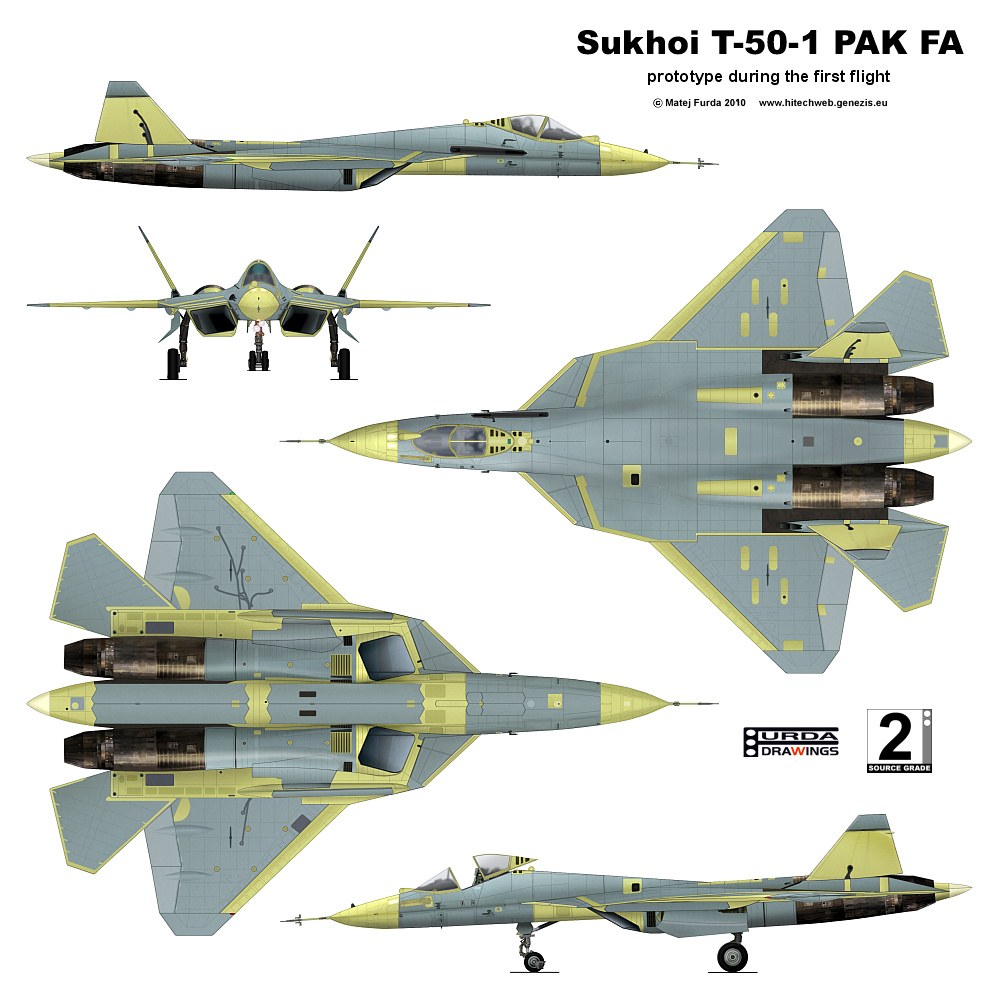 Notice the single boom between engines and then the subsequent choice of twin booms outside the engine nozzles
"If you talk about warplanes of this type, there is definitely a market for it if we produce more than 1,000 jets," Sukhoi director Mikhail Pogosyan told reporters on the sidelines of Russian Prime Minister Vladimir Putin's visit to India.
"We have all grounds to believe that there will not be tough competition on the world market," he said.
He said Russia would produce more than 1,000 of the planes wit

hin 35 to 40 years.
After the test flight, Putin said Russia had plenty of work to do on the plane.
Analysts say Russia's plans for a joint venture with India to produce the stealth fighters will likely be watched with unease by India's uneasy neighbour Pakistan and regional rival China.
Chinese J-20 Black Eagle US F-22 Sukhoi T-50 Fighters Jet
Pogosyan said an agreement on joint output of the jet with India was still in the works and did not say when a deal might be signed.
Size comparisons to the very large Sukhoi SU 30/ 27
"I believe that more than 200 planes will be delivered (to India)," Pogosyan said.
"I think (Russia's) defence ministry will buy no less than this amount," he said. About 600 of the planes would be sold elsewhere, he said.
Analysts say several nations, including Libya and Vietnam, have already expressed interest in the fifth-generation fighter.
"Apart from America, the only other fifth-generation project is Russia's, while the Europeans have given up such plans," Pogosyan said.
T50 with canards and full wings tips
"Probably the Chinese will try and promote such a product, but I think they face an immense amount of work to make their product competitive," he said.
T50 without canards and "clipped " wing tips
(Reporting by Gleb Bryanski; Writing by Dmitry Solovyov; Editing by Paul Tait)